While you can't exactly turn back the hands of time, there are some tweaks you can make to your grooming routine that will make you look younger. While the idea of using creams or engaging in any kind of beauty regimen may not sound manly enough, get over it! Men are jumping on the beauty wagon and stocking their medicine cabinets with grooming products too. In fact, sales of eye creams for men have gone up 16%, according to a 2012 report from The NPD Group, a market research firm. Here are five things you can do to look years younger.
(Article by Taryn Brooke republished from http://www.cheatsheet.com/gear-style/5-ways-to-instantly-look-younger.html/?a=viewall)
1. Tend to those eyes
"The first obvious signs of aging are the fine lines around the eyes," says Michael Bruggeman, founder of natural skin care line, Organic Male OM4 to Men's Fitness. Since skin under the eyes is very thin, it's easily susceptible to all the elements, and it's one of the first things on your face that can really show not only your age but how tired you are. Although taking care of eye wrinkles is something you need to work on in the long run, you can try to eliminate dark circles, puffiness, and bags with natural ingredients like soothing cucumber, inflammation-reducing fennel, brightening bearberry, and vitamin K, which is especially great for dark circles, according to Men's Fitness. If you wake up puffy eyes, try placing cold cucumber slices on your eyes for 15 minutes before leaving the house. Cucumbers contain an astringent that may help to constrict blood vessels around the eye, says The Huffington Post. They also have a cooling effect on inflamed skin.
If you don't have the time to use cucumbers, Kiehl's Facial Fuel Eye De-Puffer is made with caffeine to alleviate puffy bags under the eyes and goes on easy and clean thanks to its stick form. To decrease the appearance of eye wrinkles for the long run, RoC Retinol Correxion Eye Cream contains a powerful form of vitamin A, which the company says can reduce wrinkles, boost collagen production, and even decrease discoloration. Use this one only at night because retinol degrades in the light.
2. Dye grey hair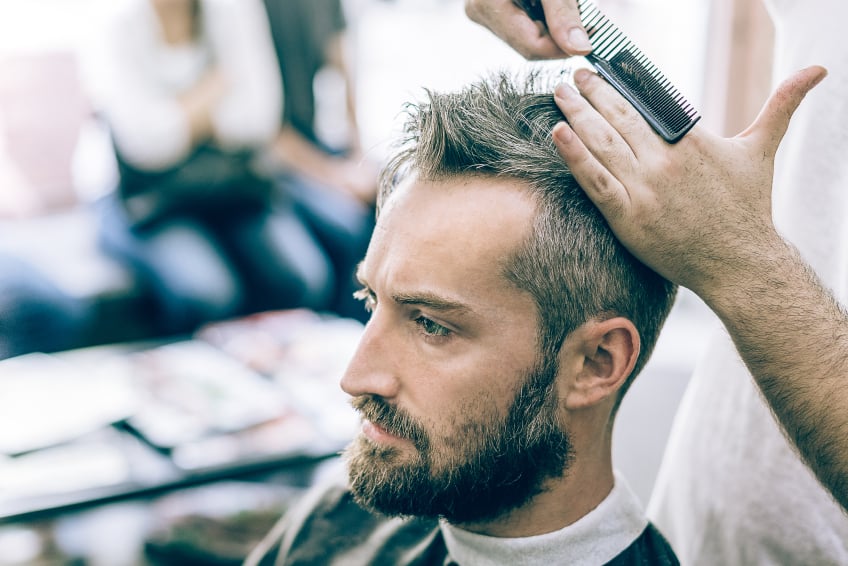 Some men begin to grey earlier than others, just as some experience male pattern baldness starting in their 20s. Although researchers don't know why some men go grey sooner than others, genes seem to play a major role in the matter. For most, the process begins around age 35 and by age 50, 50% of people are gray, says Jeffrey Benabio, M.D., physician director of healthcare transformation at Kaiser Permanente in San Diego to Men's Fitness. If you're graying, there's not much to do but either embrace it or dye it. While your best option  is tomake an appointment with a stylist who will gradually add lowlights (the opposite of highlights) to targeted areas, if you're experiencing little patches or see it mostly in your beard, take matters into your own hands and try Just For Men Brush-In Color Gel for Mustache & Beard in the closest color to your beard. In just a short amount of time you can take years off your face.
3. Take care of that skin
The best way to prevent further wrinkles, sunspots, and any other discoloration? Wear a minimum of SPF 30 everyday. To plump your face instantly, you can try Lab Series Pro LS All-In-One Face Treatment, and for a long-term anti-aging cream try Kiehl's Since 1851 Facial Fuel Anti-Wrinkle Cream. This cream helps skin feel strengthened and more dense so it appears firmer, and the look of facial wrinkles and lines may diminish.
4. Whiten your teeth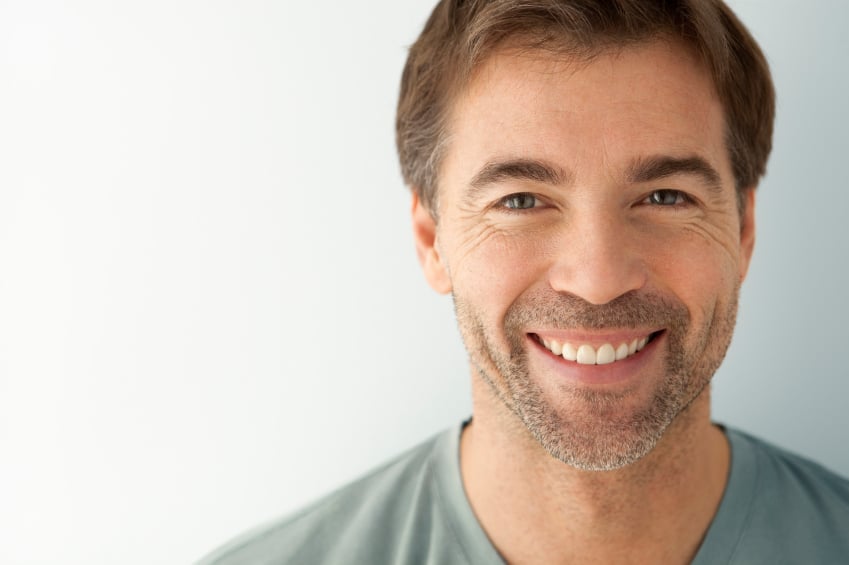 If you're like most men, you drink a lot of coffee, red wine, are into your health, and eat any berry that you can get your hands on. Unfortunately, your health habits as well as your vices can make your teeth look dingy, stained, and yellow — thus aging you. You can change your habits (stop drinking coffee and red wine) and eat other types of fruits and vegetables, such as apples, celery, raw carrots, broccoli, and other crunchy greens which exfoliate the stains on your teeth — or you can attempt to whiten them instantly by trying whitening toothpastes, over-the-counter whitening agents, or home-made remedies.
5. Add some color to your wardrobe
Perhaps the easiest and fastest way to look younger instantly is to revamp your closet beyond your go-to grays, blacks, and blues. The best place to start? Wear clothes that bring out your eye color. "You'll get more attention if you wear something that reflects your eyes," says David Zyla, Emmy Award-winning stylist and author of Color Your Style to Men's Fitness. Zyla recommends looking for shirts, sweaters, and ties that match the specks of your iris, which can be confusing to decipher immediately. For instance, brown eyes often have shades of ruts, olive, and aubergine, while gray eyes compliment turquoise, mint, and lavender well. When in doubt, ask a friend or a sales associate if you're out shopping.
Also, by simply adding pops of color wherever you can, it's sure to brighten you face, mood, and subsequently your aura, making you appear younger.
Read more at: http://www.cheatsheet.com/gear-style/5-ways-to-instantly-look-younger.html/?a=viewall
Signup for our newsletter, we will respect your inbox and privacy